Kapparis
Kapparis (Greek for capers!)
Kapparis is untouched and unspoiled compared to the overcrowding in some resorts. It is a small village where the community is very friendly and who make time for holiday makers. The atmosphere is very relaxed and laid back, which makes it the ideal place for a chill out and get away from it all holiday.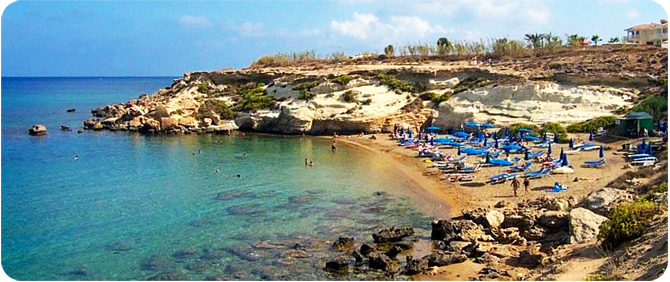 Kapparis has easy access to the towns of Paralimni and Deryneia, and the resorts of Pernera, Protaras and Ayia Napa. Although Kapparis has supermarkets, restaurants and bars, we feel that a car is really essential for maximum pleasure.
Beaches in the Area
Fireman's Beach (Kapparis Beach)
Fireman's Beach is a lovely, sandy cove which has some really breathtaking views. You can even see Famagusta Ghost Town on a clear day, if you walk round the bay. The fireman's station is located at the top of the bay and fireman can often be seen training on the beach in the late afternoon and early morning. It is perfect for families as the beach is compact and secluded with shallow waters. You will find a copious amount of sunloungers and umbrellas at your disposal and a Kiosk at the top of the bay.
Malama Beach
If you are looking for peace and quiet, then Malama is a perfect choice. It is a sandy beach which is tranquil, in comparison to other main beaches. A real local's choice with a water sports area for the adventurous type. You have a sea view restaurant/ cafe above the beach if you require breakfast, lunch or dinner. It would be ideal for families as the water is shallow enough for young children and is small enough to keep an eye on them.
Ayia Triada Beach
Ayia Triada is a visually appealing beach, with a fishing harbour and tiny chapel. It is a sandy beach, with sun loungers provided for the general public. Again, it is tranquil and safe enough for children with the shallow waters and relatively small beach area (compared to the main beaches). There are walking trails along the coast if you are feeling active and want to soak up the views of the beautiful harbour.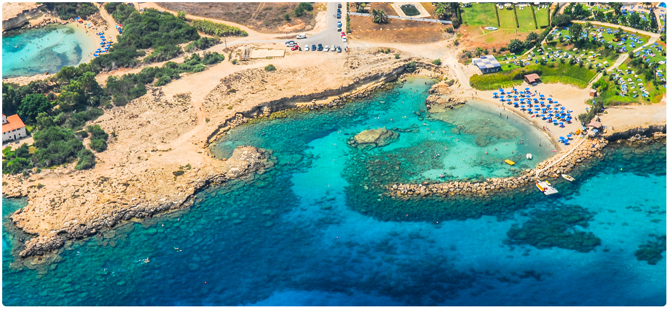 Best Restaurants as recommended by RentPrivateVillas's Director
Faliros Restaurant
Cuisine: Steaks, Grills, Meze House with Cypriot Cuisine
Live music every Thursday
Renowned for the Kleftico and excellent value for money, it is busy every night, reserving a table is recommended.
Just Italian Restaurant
Cuisine: Italian
Providing authentic and contemporary Italian ingredients, flavors and atmosphere all year round in Cyprus. A combination of a modern atmosphere with the freshest of ingredients creates a true Italian restaurant that offers real value for money.
Folio Restaurant
Cuisine: International and worldwide fusion cuisine.
Offers something new and different to the Kapparis area.